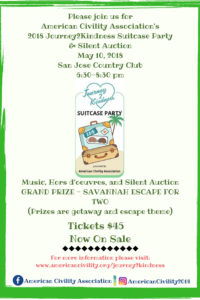 Breaking News… By popular demand, American Civility creates another Journey2Kindness Event 
News Anchor @ WJXT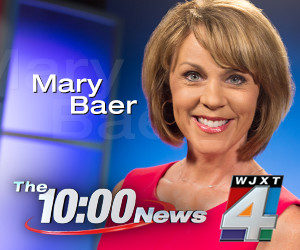 MARY BAER, 2018 KINDNESS HERO OF THE YEAR
PARTIAL LIST SOME RAFFLE AND AUCTION PRIZES
Savannah Getaway THE MARSHALL HOUSE
Premier Boutique Hotel – Beach Front Condos Amelia Island Vacation
Daycation Packages: Day at the Baseball Park with Throw a Pitch
Pirate Ship Cruise
Zip Line Adventure
Free Day in Old St Augustine
Walk on the Wildside with Zoo Keeper
Intuitions Beer Tasting for 6 and Lessons from Beer Expert
Creative Grain Workshop for Two
Snorkeling Adventure
JAX Beer Bus Tour
Please help us build a kinder and safer community.
Contact :  amyb@americancivility.org
Call:  904-612-5031
Buy your tickets now…
American Civility Association's journey2kindness, "Vacation Giveaways Suitcase Party" | San Jose Country Club, May 10, 2018, 6:30 PM
In case you cannot make it to our fantastic event and you would like to give a donation to our organization, please do so… it would be greatly appreciated.  Amy Barnett, American Civility Association.