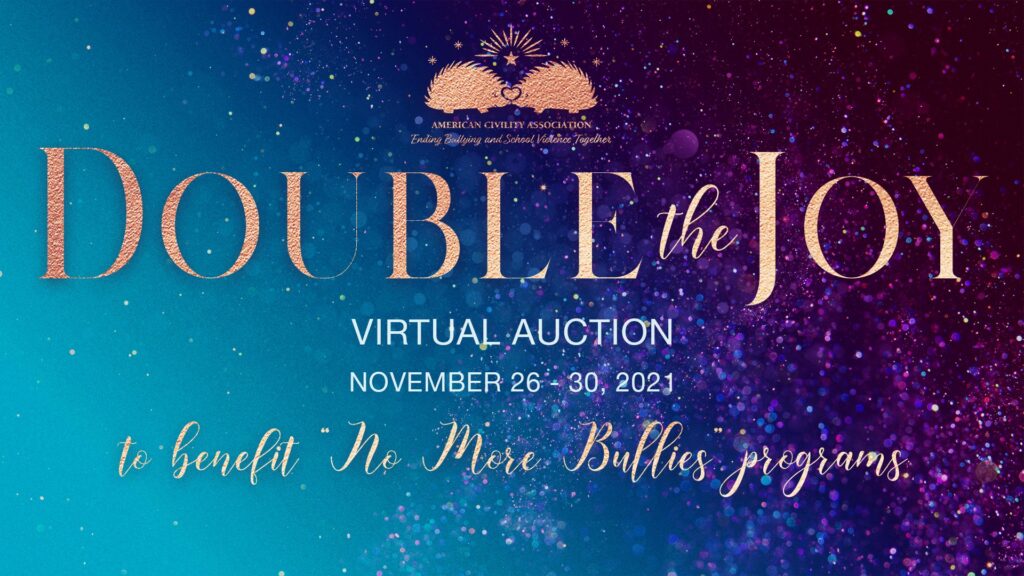 It's fun, it's exciting, it's "once-in-a-lifetime" gifts! Plus, with each purchase, you give hope to kids and prevent suicides for children and teens!
It's the "DOUBLE the JOY" Virtual Auction.
Your joy is two-fold: 1- Joy of the Winning Bid 2- Joy of helping prevent adolescent suicide and ending bullying for kids
Whether shopping for friends, family, or yourself, you can enjoy giving great gifts and the happiness of helping a life-saving cause.
HAVE FUN BIDDING and HAPPY SHOPPING!
Proceeds benefit "No More Bullies" Programs from American Civility Association, Inc. a 501c3 non-profit charity.
Our mission is to end bullying and prevent adolescent suicides through evidence-based kindness education programs. We equip children and educators with brain-building tools for positive mental health and social-emotional learning tools to build relationships. Our programs work. We end bullying and create caring safe school cultures where students thrive. This helps to prevent school violence including preventing adolescent suicide. Adolescent suicide has increased over 31% this past year. Your help saves lives.
The American Civility Association, Inc was formed in 2014. Our "No More Bullies" mission developed in response to the tragic shooting at Sandy Hook Elementary School, in Newtown, Connecticut, where so many precious lives were lost. So far, we have reached over 33,000 children and educators in the state of Florida with our life-saving programs, yet there is a long way to go.
A SPECIAL THANKS FOR THE SUPPORT OF OUR GENEROUS AUCTION ITEM DONORS:
Scholes Periodontist and Implants, Chandler, AA
Alhambra Dinner Theater
HLC, Hotels Marshall House
Hardage-Giddens Funeral Homes Cremation Services
Amy Maynor, SheRestore
Matt Carlucci, State Farm Agency
Barnett Jewelers
Backwater Fishing Adventures
Mark Woods
Brett Rhoden, LMFT
Anna Barnett, Loan Officer
Elizabeth Barnette
Mark St. George
Mayo Clinic
Heather and Douglas Gollnick
David Preston
1748 Bake House
Bob Traylor
Deerwood Country Club
Trader Joe's
Carrabba's
Noble Jones Tours
San Marco Theater
Florida Theater
Pet Smart
Hillary Citrano
Natural Life
Sara Buckley Makes
Kelly Murphy
Fresh Market Riverside
Roosters Men's Grooming Center
WICK Candle Bar
RUE ST MARK
Suzanne Bone-Schellenberg
Southside United Methodist Church
Friends of American Civility